Giant Robo-related sites
Tetsugyu's Giant Robo page--Another great fan site with many pictures and commentary on the series.
Ex. org's review of Giant Robo--An informative review of the series as a whole.
The AnimeArchive--Want GR pictures? This is THE place to go (especially if you like GinRei).
Gary's Giant Robo Page--Some nice big screen captures here from GR episode 1.
ONIcon '98--The Rossman's view of a (ficticious) Giant Robo 8.
Giant Robot screen captures--Johnny Sokko's robot in action.
Anime Scripts--This page has scripts for some of the Giant Robo episodes. They offer a more direct translation than the Manga dubs.
---
Misc. pages
Andrea Koupal Art--My artwork online.
The Mega Man Homepage--Huge website for all that is Mega Man.
Mr. T, the Toughest Man in Anime--I pity the fool who don't visit this site!
---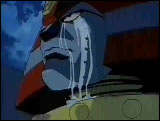 Don't cry Giant Robo! Of course I'll visit this page again!
Back to Main (changed your mind, eh?)